SkyATA - Worldwide smallest Skype USB Dongle
11/03/16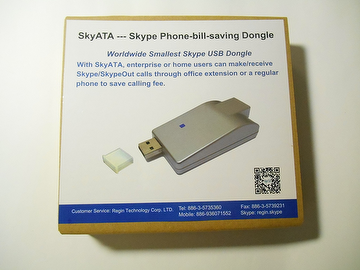 Regintech SkyATA - Skype phone_bill_saving box
Still using headset for Skype talks? Still suffering echo due to PC speaker?
You need to try worldwide smallest Skype gateway - SkyATA!
You can even integrate SkyATA with your PBX for employees to pick desk phones to make and receive Skype calls.
SkyATA can connect with office existing PBX analog trunk line or any analog phone, so employees can pick up their desk phone to make/receive Skype calls. When employees are out of office, they can call back office via free Skype call at the internet ubiquitous age to save expensive mobile fee or even international roaming fee. With Skype subscription programs or Skype Out credits, employees can make regular PSTN calls just as they did before without changing calling habits and company can save lots of money on phone bill and increase communication convenience.
Our software can support latest Skype version for Windows XP, 7, 8 and 10. We provide software online upgrade and technical support to give users awesome experiences.
Skype doesn't support Speed Dial function after version 4.0, you can set a speed dial number for a Skype contact or a SkypeOut contact from SkyATA Speed Dial setting page. Speed dial number can be up to 5 digits 0~9 Arabic numerals. SkyATA also supports other IM/Softphone(such as QQ, MSN, Google voice) as an audio device. User can make/receive an IM call from PC and then pick up phone for conversation.
SkyATA can also be applied to any soft phone application with software modification. We also provide software SDK for deveopler. Any VoIP OEM/ODM is welcome.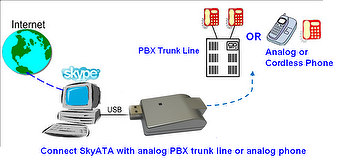 Regintech SkyATA Skype gateway PBX or phone application
By connecting SkyATA with a cordless phone or a DECT phone, you can make/ receive a Skype call through the handset without having to stay close to your computer. After SkyATA is integrated with office PBX, employees can pick up desktop phone to make Skype/SkypeOut calls without the need to install Skype in personal PC. When employees are out of office or abroad, they can call Skype back office via smart phone to save money.