Regintech Skype Gateway:SkyATA──SOHO office application
30/08/19
Regintech Skype Gateway SkyATA──SOHO application
Skype is a worldwide free communication softphone, and there are more than 300 million active monthly users now. You are a smart phone bill saver if you can optimize Skype talk. With the broad Skype user base and benefits of phone bill reduction, many companies want to use Skype voice application although security is their major concern. Skype gateway can have an isolated network setting and management, so it can help enterprises solve the dilemma and get a convenient, secure and low cost communication platform. Additionally, company Skype account can subscribe SkypeOut credits or Worldwide Go program for employees to make Skype calls freely.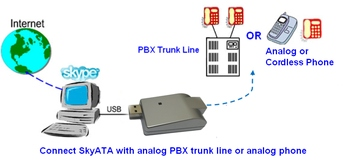 Regintech SkyATA PBX or phone application
SkyATA can bring you eight major benefits.
1. With SkyATA country and area codes appropriately set, employees can make regular
phone calls via SkypeOut without changing calling habit.
2. Skype Speed Dial function of SkyATA makes frequent calling international calls easy.
3. DOD function automatically makes an audio or a video call once the phone is
off-hook.
4. DID function auto-transfers incoming Skype calls to the assigned extension number.
It's convenient for customer service.
5. Incoming Skype callers can send Skype chat for any PBX extension number one
minute before or during the call.
6. SkyATA can connect with office analog conference phone to enhance Skype
conference call voice quality.
7. With SkyATA set at IM mode, office analog conference phone can turn out to be an
internet conference phone.
8. Having trouble of losing call party voice during PC Skype calls? SkyATA "Audio
Recovery" button resolves this problem with a quick click.