Regintech's SkyGWO - 4 port FXO PCI-E card for Skype gateway
04/08/15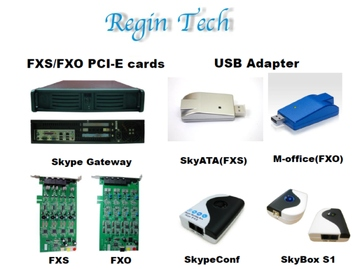 Desktop PC built in 4FXO PCI-E card SkyGWO for PBX Skype gateway application
Windows platform Skype FXO gateway with better voice quality for carrier lines or PBX analog extension lines.
SkyGWO is Regintech's second generation Skype PCI-E card gateway. First generation FXS Skype gateway SkyGW4C-S is for PBX analog trunk lines, but this new device can be connected with PBX analog extension lines or telecom carrier lines. For company without PBX or with limited PBX trunk lines, it is a good option. Another major feature different with first generation gateway is employees can call back office via landline for outgoing Skype or SkypeOut calls to add working mobility and save cost. It is similar as Skype's Skype To Go service, but with more flexibility. Up to 16 Skype lines in one PC can be supported now.
By connecting SkyGWO with company's existing PBX extension lines or telecom carrier lines, employees can make/receive Skype calls through their desk phones. Employees don't need to install Skype in personal PC to increase company security concerns and MIS's burdens. With the installation of SkyGWO, different location offices can have a free communication. International calls can also be achieved free or at low cost via SkypeOut. Employees out of office can call back office for any extension via Skype free call. Enterprise can have free Skype MVPN with SkyGWO speed dial and employee's smart phone Skype. Through Skype Button function or SkypeIn, 800 service call can be replaced by the free Skype web call. Enterprise can benefit cheaper communication fee and even better communication platform for B2B or B2C with lots of management features through SkyGWO.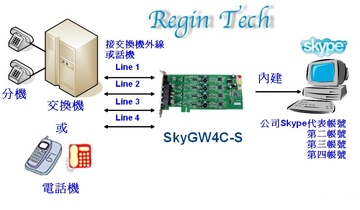 Standalone Skype FXO gateway SkyGWO for PBX application
Through Skype Button in company web site and SkypeIn service, 800 customer service lines can be replaced. Incoming customer service calls will be forwarded directly to company's customer support personnel without bothering company IVR. With DOD function, employees just dial an extension and then have a direct connect with their foreign factory or branch office through Skype or SkypeOut calls.
SkyGWO supports Win 7, Win 8 and Windows 10 to help companies to have standalone Skype gateway products at much lower cost compared with existing standalone Skype gateway solutions. However, standalone gateway solutions are still available from us at a reasonable price. And we also have USB Skype gateway box for you to connect with Windows PC for Skype gateway. We also provide software online upgrade and technical support to give users awesome experiences. In addition, Our solution has some features which are quite different with existing market available solutions. For example, auto Skype contact authorization can greatly increase Skype to Skype call success rate. Hence, it is the most competitive Skype gateway solution in the market. And this PCI-E card can be applied to other VoIP soft phone application with software modification.