Regintech M-office - Skype/PSTN forward box YouTube introduction
31/03/19
Regintech M-office - Skype/PSTN forwarding box Youtube introduction
M-office---Free landline & Skype forward box
Must-have phone secretary for frequent travelers
Regintech M-office YouTube introduction:
Still paying mobile phone forwarding fee to your carrier? Now you get a better choice!
* M-office can forward your incoming landline calls to mobile phone Skype for
FREE.
* Under "PBX mode", incoming landline calls can be forwarded to specific Skype
accounts based on the "Extension table". Traditional office PBX is NOT a must!
* Landline and Skype two-way forwarding functions save you a lot $$$!!!
There are already a lot of landline forwarding solutions in the market. However, some of them have bad voice quality or need the forwarding fee. M-office can forward the incoming call to mobile phone Skype for FREE!
When you travel abroad, you can call back M-office Skype account and use M-office landline to call the contacts in your country. If the callees couldn't answer your call in time, they can call back via caller ID and the call will be forwarded to your mobile phone Skype.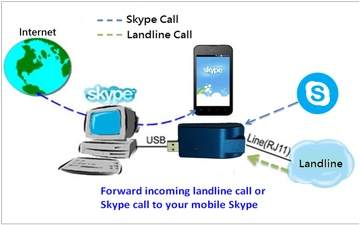 Regintech M-office application
M-office is set at "Forward mode" as default.
If you need incoming landline calls forwarded to Skype,
all you have to do is to assign the forwarded Skype account
and click the "OK" or "Apply" button. When there is a landline incoming call,
the call will be directly forwarded to your assigned Skype account by M-office.
When you need M-office to serve as a virtual PBX, set M-office at "PBX mode".
Click "Extension table" to fill in the extension numbers & the corresponding Skype accounts. Remember to click "OK" or "Apply" button to finish the setting. When there is a landline incoming call, M-office will forward the call to the assigned Skype account
based on the dialed extension number.
Regintech's full series of Skype gateway products support Skype 8.x now.
Please contact Regintech Mr. Chou for more information. Thank you!
Office: +886-3-573-5360
Mobile: +886-936071552
Skype Account: regin.skype