Regintech can support 03/01/2017 Skype version force upgrade for its all Skype gateway products Now
21/03/17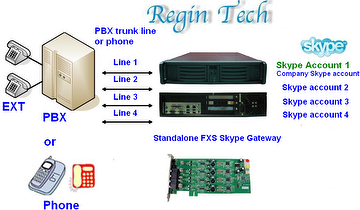 FXS Skype gateway application with PBX
Skype stopped Windows Skype 7.16 and earlier versions support from March 1, 2017 and many APIs support were also changed. Now Regintech's enterprise Skype gateway customers can continue to use existing Skype gateway hardware with software upgrade to enjoy benefits of Skype services. The updated Skype gateway software can support latest Skype version 7.32 and 7.33. Besides it can support the newer Skype accounts registered with e-mail address and mobile phone numbers.
Regarding our one port Skype gateway solutions like SkyATA, Sky911 and Skybox S1, users might get upgrade inform or can check latest software from product system tray icon and download it to use. The new software can support latest Skype version 7.33. It also resolves SkypeOut dialing extension number and unexpected call drop problems.
We dedicated on Skype gateway products development for many years and we are one of the few companies which can support latest Skype version seamlessly. For Skype voice recording support, we still need to work on that. However, users can use Skype recording function in Windows XP or Windows server 2003 temporarily.
If you have any question about Skype gateway solutions, please don't be hesitated to contact us. Thanks.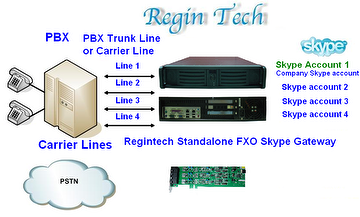 FXO Skype gateway application with PBX
By connecting SkyGWO with company's existing PBX extension lines or carrier lines, employees can make/receive Skype calls through their desktop phones. Employees don't need to install Skype in personal PC to increase company security concerns and MIS's burdens. Different location offices can have a free communication and international calls can be achieved at free or low cost. Employees out of office can call back their office via Skype in the internet ubiquitous age to save expensive mobile fee or even roaming fee. Through Skype Button function or SkypeIn™ service, 800 service calls can be replaced by free Skype call. Enterprise can benefit cheaper communication fee and even better communication platform for B2B or B2C through SkyGWO.
Although smart phone is very popular for Skype call now, but sometimes mobile Skype connection is not quite good. With SkyGWO, employee can call back office via landline or mobile for a good quality Skype international call to deal with important business communication at any time. It is similar as Skype To Go service but with more flexibility. This will largely increase employee's mobile communication
After DID function is integrated with Skype Button in company web or SkypeIn service, incoming Skype service call will be forwarded to the dedicated support persons without accessing company IVR. With DOD function, employees just dial an extension number to have a direct connect with their foreign factory or branch office through Skype/SkypeOut™. Skype MVPN solution can be implemented with employee's mobile Skype.
Furthermore, SkyGWO provides a very simple way to contact colleagues via its Cheese button function. With Cheese button function, you call colleague's speed dial and then press "#" and one number key until you find the colleague. You don't need to memorize lengthy phone numbers. Just preset your contacts with their reachable phone numbers and enjoys the convenience of Cheese button function.