Microsoft/Skype claimed to end Skype 7.x service on November 1st, 2018. Regintech will support all products for Skype 8.x.
02/10/18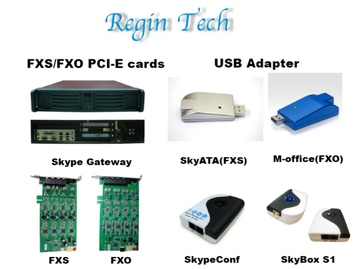 This July, Microsoft/Skype claimed to stop Skype 7.x service by September 1st, 2018 , but they later extended Skype 7.x support for an unknown period. This September 28 they formally informed Skype 7.x service will start to end on November 1st, 2018. Please refer "Editor's note, September 27, 2018" of link https://blogs.skype.com/news/2018/07/16/upgrade-to-the-latest-version-of-skype-for-desktop/
Skype 8.x doesn't support any API for developers and we spent lots of efforts to keep our Skype gateway functions. This time, we will charge on software upgrade for products SkyATA( or SkypeKey, SkyTrunk and HT44), SkyBox S1( or Sky911, SkyPeBX and ST-1002), SkyGW4C-S and SkyGWO. For customers who purchased these products within one year, they will get a free software upgrade for Skype 8.x. We will release updated software for our various Skype gateway products to support most recent Skype version 8.30.0.50 and later on versions.
Voice quality of Skype 8.x is much better compared with that of Skype 7.x. And recent Skype version can support audio reccording and received files share is much convenient than the 7.x version. There are still partial functions of our Skype gateway not ready. Our customers can run Skype 7.x with our Skype gateway devices for now. We plan to have updated Skype gateway software for Skype 8.x on October 25.
Should you have any problem, don't be hesitated to contact Henry. Henry's contact: Phone: 886-3-5735360 Mobile 886-936071552 Skype: regin.skype Email: henry@regintech.com.tw Thanks a lot.